GRP
Sectional Water Storage Tanks
What is GRP ? (Glass Reinforced polyester)

GRP Sectional Water Storage Tanks' panels are obtained from the process of chopped fiberglas and unsaturated polyester resin under high pressure and temperature. 
Panels are manufactured at high tonnage press which molders heated up to 150 oC. Smooth, highly resistant and cured panels are obtained through high molding and manufacturing technology.
ESİNOKS GRP panels are WRAS approved, which represents the highest global standards. Panels are also tested by TSE, in terms of health and nutrition regulations. GRP Panels are UV stabilized; therefore do not allow algea growing inside the tank.
Surface of GRP panels can be insulated by polyurethane coating as an option.
Insulation material doesn't contain neither CFC nor HCFC.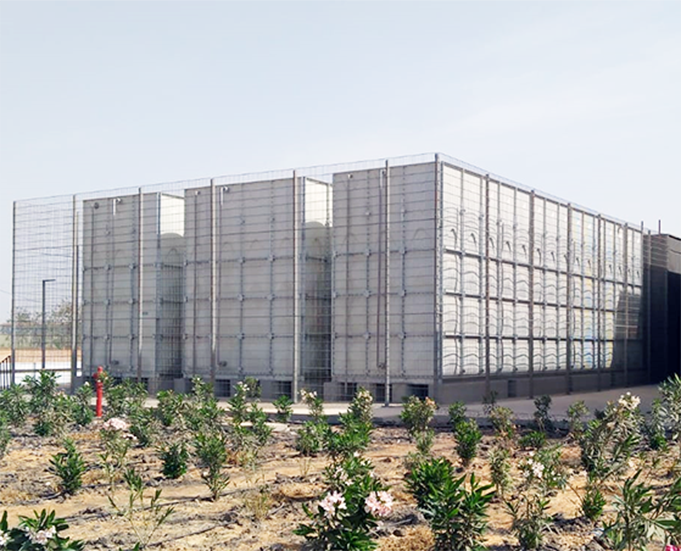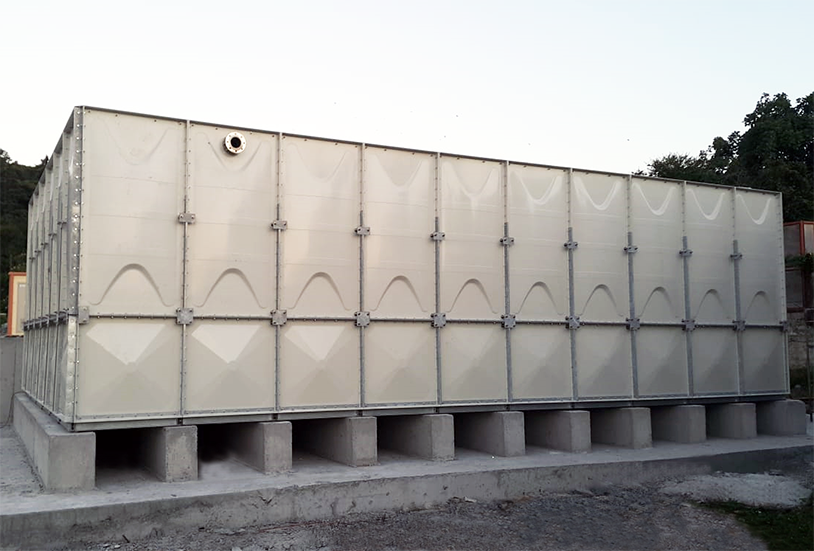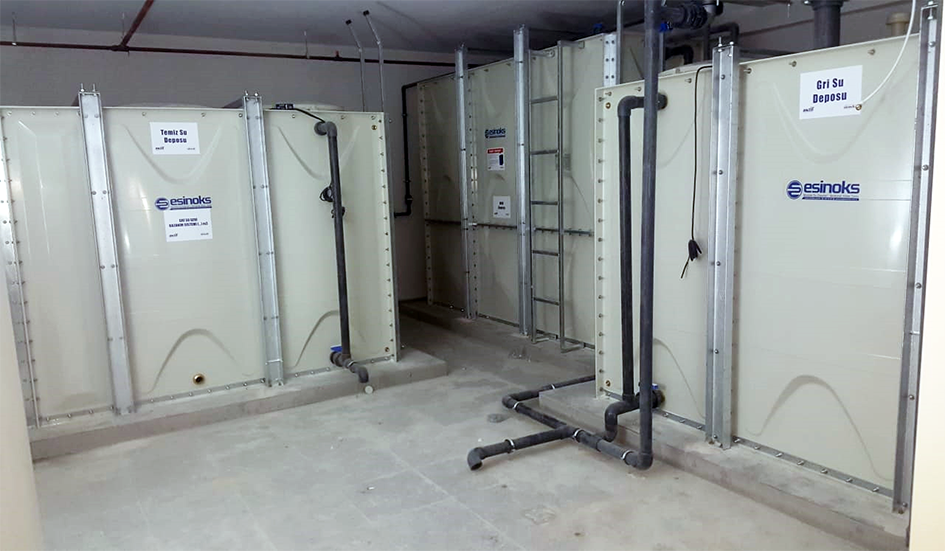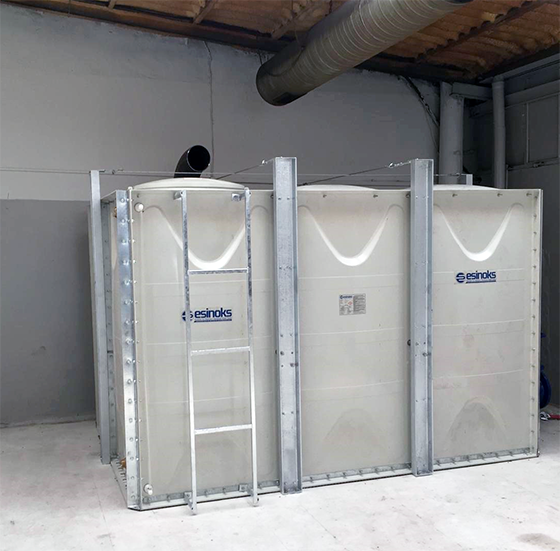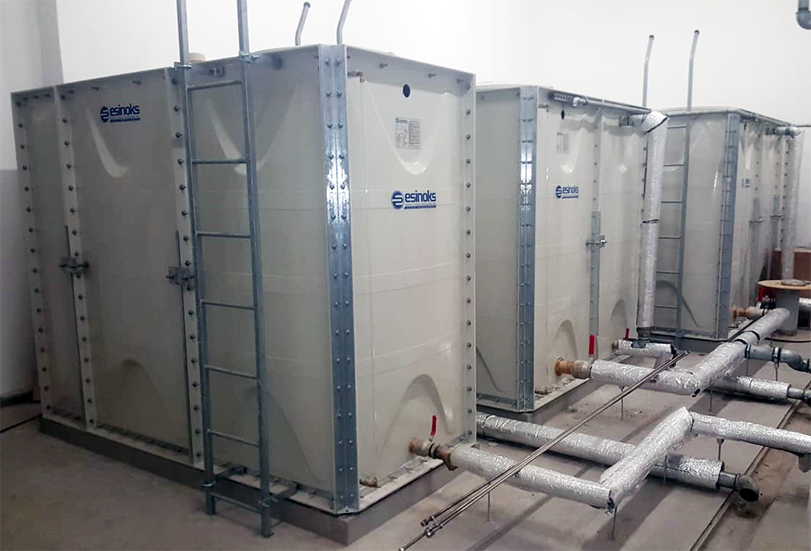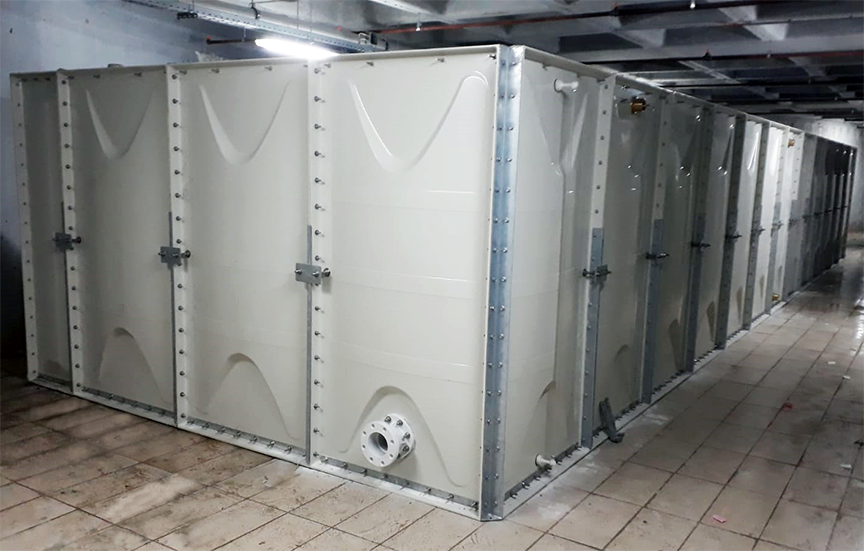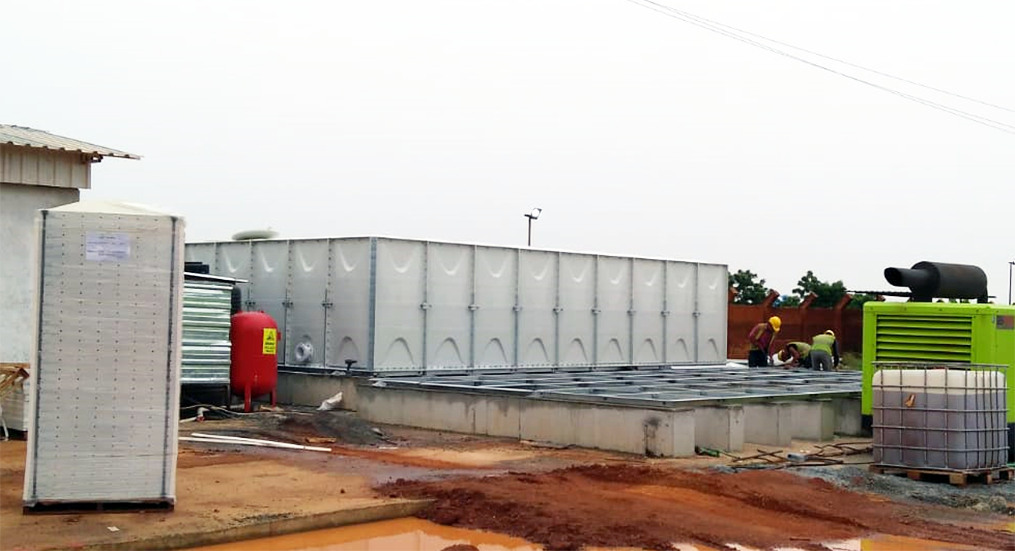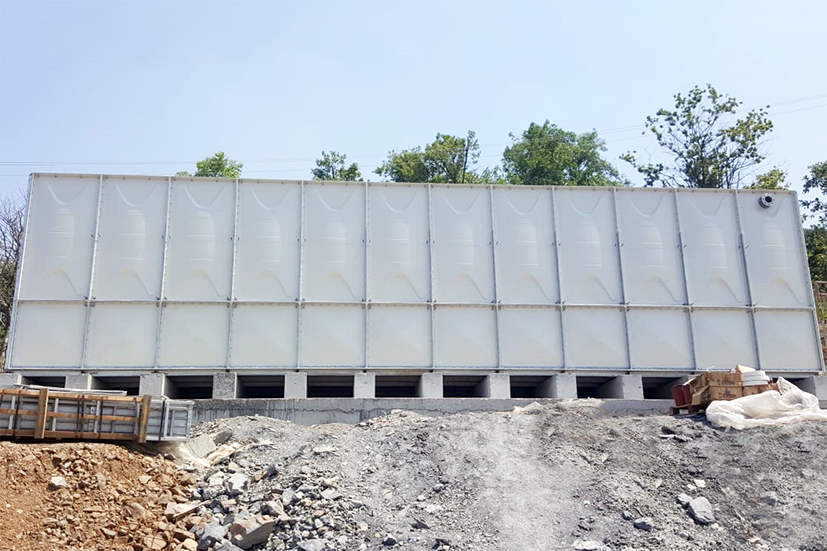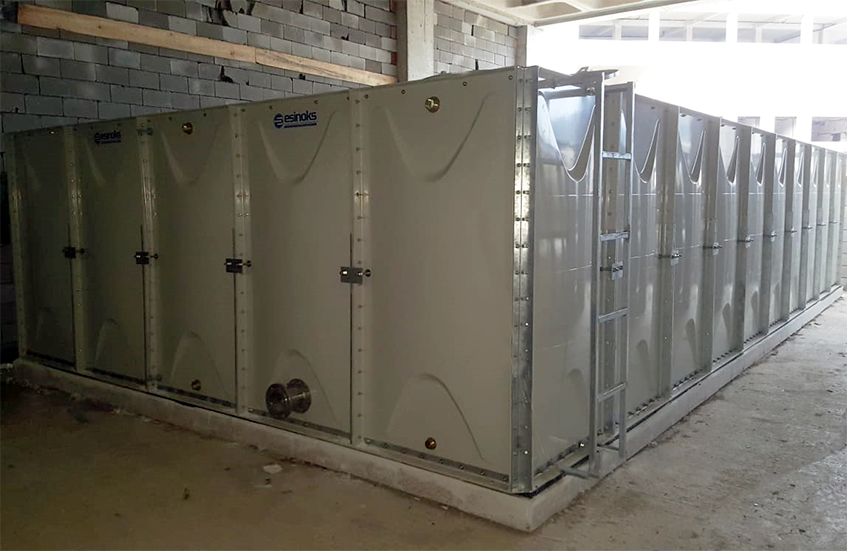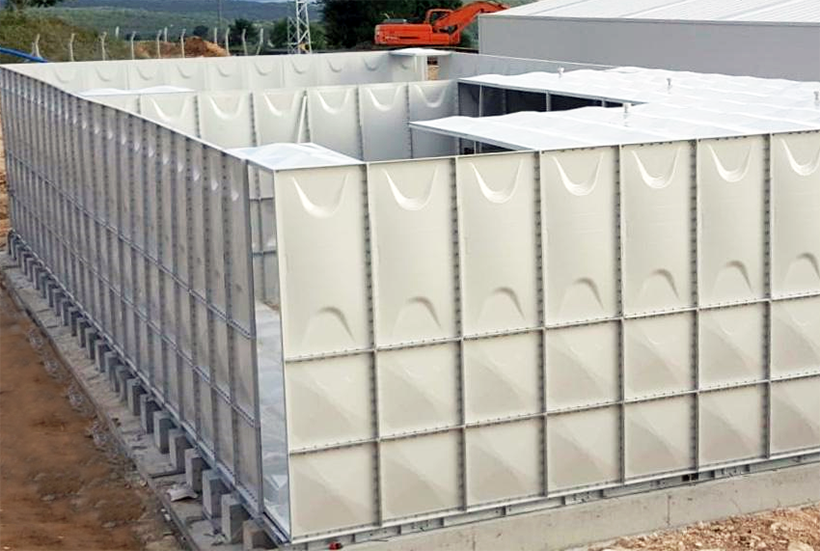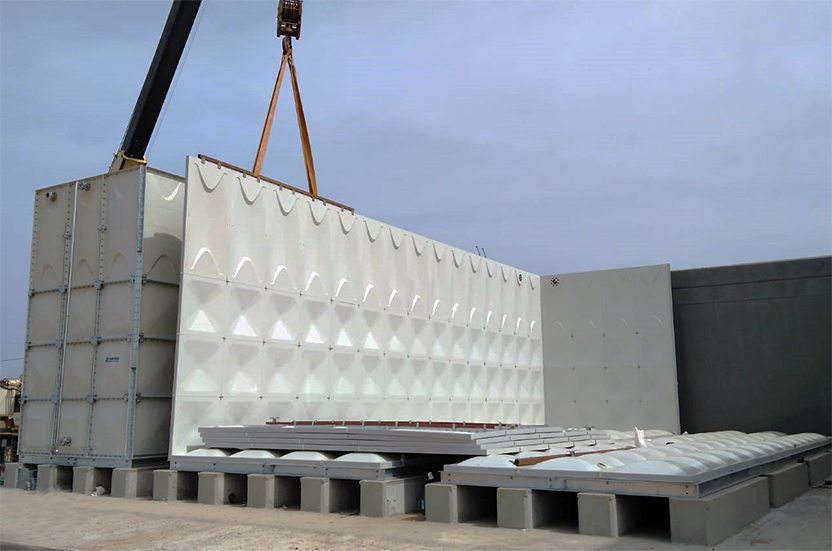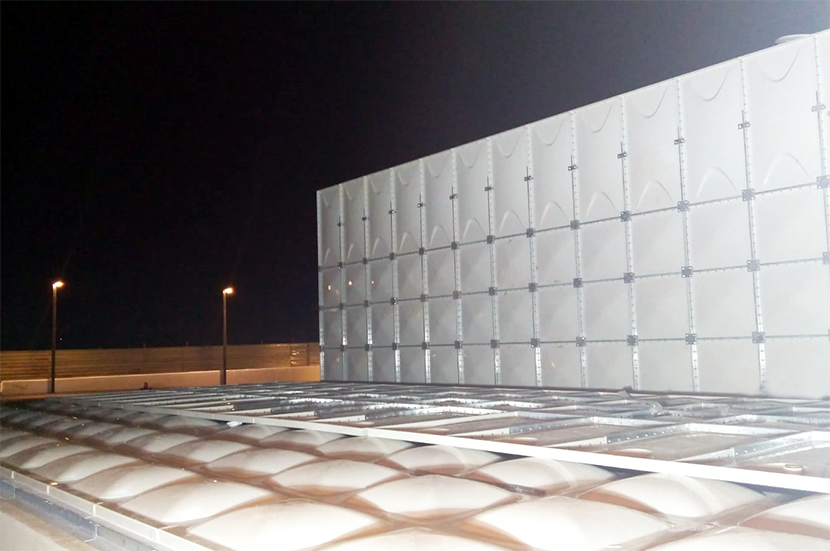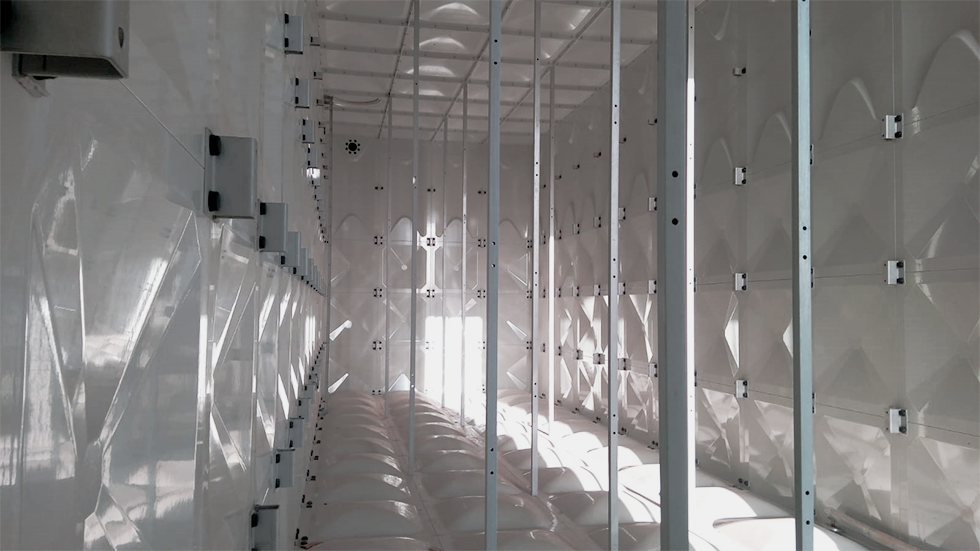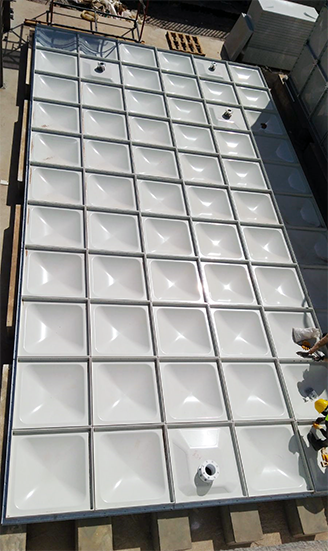 The raw material of GRP panel is SMC (Sheet Molding Compound). SMC consists of chopped fiberglass and unsaturated resin. Since GRP panels are produced by hot press molding operation. GRP is a durable and long service life composite material.
GRP panels are manufactured in heated molders under high tonnage presses. Form of GRP panels increase the tensile strength of itself. That's why GRP panels have resistance to hydrostatic water pressure layer. GRP panels are UV stabilized, can have optional heat insulation which applied on the surface of the panels.
Since UV resistance is extremely high and heat transmission coeffecient is very small, GRP panels can be installed at outdoor locations.
GRP Water Storage Tanks do not transmit the light inside; that's why the GRP Water Storage Tanks don't allow algea growing inside.
GRP Water Storage Tanks are approved to health and nutrition regulations.
Esinoks GRP panels have 25 mm and 50 mm thickness options for insulation.
Since bottom pannels are convex formed, bottom panels are highly resistant to water's static pressure and there is no water leakage risk. 
GRP Sectional Water Storage Tanks can be divided in to compartments with help of specially designed partition panels.
GRP Water Storage Tanks can be designed both internally or externally flanged. If the tank is internally flanged, than the internal bracings and fixings coming in to contact with water is AISI 316 (EN 1.4401) stainless steel.
Concave designed drain panel enables draining dirth and mud collected at the bottom of the tank.
Concrete base design of the "externally flanged base tanks" is projected and recommended by ESİNOKS. 2 mm levelling tolerance for every 6m for lenght is required for concrete base, which will be constructed by the customer for externally flanged base tanks. Following, steel skid base, which is produced by ESİNOKS is placed on the concrete base before installation. Finally steel skid is levelled and final control is done with laser leveling equipment.